On March 31, Girl's Day member Minah appeared on the Mnet interview program, "4 Things Show."
During her appearance, Minah made the surprising revelation that she has been cursed at on the street by middle school students.
Throughout the episode, the guests on the show discussed negative comments and anti-fans, Minah stating "When I look at negative comments, even while thinking to myself 'I have to ignore it, I have to ignore it,' I still want to ask, 'Why is it like this again? Did I really cause that much damage?'"
Fellow Girl's Day member Yura comforted Minah by saying, "If you're a celebrity, negative comments are something you have to deal with, there's nothing you can do about it. If you think about it like that, the pain will infect your heart/mind too severely. You have to think positively."
Minah then revealed a rather shocking story about some particularly harsh haters, saying, "Something happened while I was filming the movie 'Holy.' I was filming a scene where I did ballet along railroad tracks. Some students who looked like they were in middle school passed by and said, 'Isn't that Minah?' and started saying vulgar things to me. It was so hateful. I thought 'do I really have to do this even while listening to these words?' I thought, 'I suppose it's very easy to be hurt by strangers.' I was wounded by words that were carelessly thrown at me."
Minah concluded this story by saying, "Every time I think this way, it's frustrating. In conclusion, I think that if I try my hardest, and if I steadily do the things I want to do, one day I'll find myself."
Celebrities in Korea (and all over the world) are often victims of vicious personal criticism, and we hope that Minah doesn't pay the haters too much mind in the future.
"4 Things Show" is broadcast every week at 6pm KST on Tuesdays, so be sure to tune into Mnet for more interviews with your favorite artists, and stick around moonROK for more updates.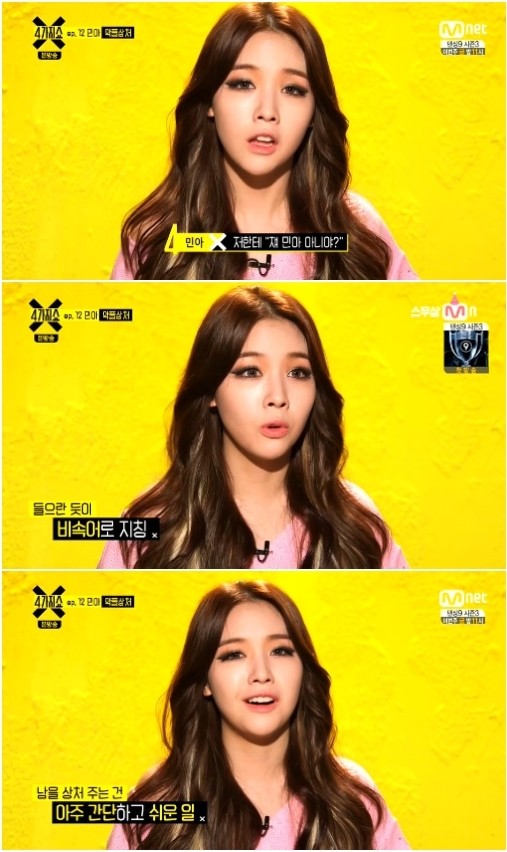 Source: OSEN
Images courtesy of their respective owners
(Visited 198 times, 1 visits today)
Tags:
Girl's Day
Minah
Yura