Sulli, a former member of girl group f(x) turned actress, was admitted into the emergency room for a deeply cut slice along her wrist.
Eye witnesses reported that Sulli was admitted to the Seoul University Hospital in the early hours of the morning on the 24th due to a 6~7cm deep cut on her arm, a type of injury consistent with suicide attempts.
On Sulli's Instagram, which is frequently a topic of discussion amongst netizens for Sulli's frequent questionable uploads, she uploaded a photo on the afternoon of the 24th with the caption saying "I accidentally hurt myself 🙁 Sorry for making you worry!" You can view a screenshot of the original post below: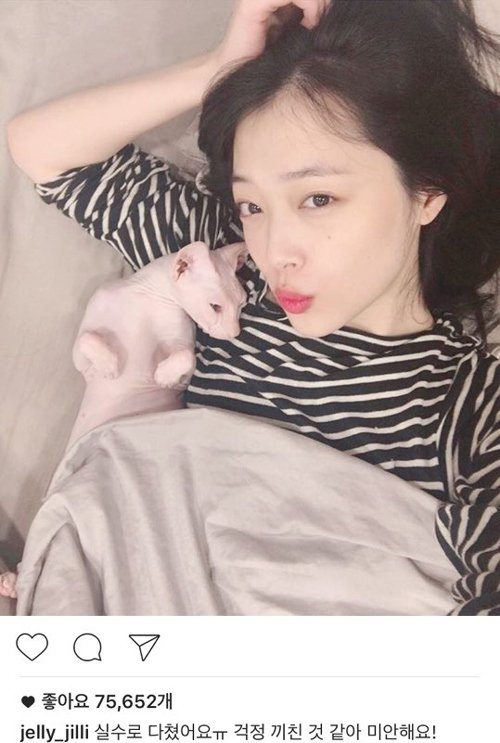 Sulli's boyfriend, Dynamic Duo member Choiza, was reported to have accompanied her to the hospital.
A representative of the hospital reported that Sulli's injury was both not severe and that it was not a suicide attempt, but there are images surfacing of a Kakao group chat between hospital workers discussing Sulli's admission to the hospital. The chat room reads that Sulli was admitted to the hospital for a suicide attempt, citing a 5cm long subcutaenous laceration to her left wrist so deep that tendons were slightly visible. You can view the screenshot below:
A representative of Sulli's agency, SM Entertainment, reported, "Sulli accidentally injured herself at her home and was rushed to the emergency room in the early hours of the morning." They also reported that she received an X-ray while at the emergency room. They have since not been fielding any further questions from reporters.
We here at moonROK all wish Sulli a safe and speedy recovery!
Source: Segye Ilbo, The Fact
(Visited 813 times, 1 visits today)
Tags:
Choiza
Injury
Sulli